Our Vision
"Social reintegration of inmates as good citizens through rehabilitation"
Our Mission
"Rehabilitation of Prisoners ensuring their custody and care by building a proper relationship between the prisoners and the officials so that the officials gain the job satisfaction while the labour productivity of the prisoners to enable the department be self-dependent and utilizing it to augment the development drive of the country and ultimately socializing the prisoners as creative and virtuous skillful citizens."
Our Targets
Contribute to the creation of a more civilized society by proper rehabilitation of prison inmates enabling them to become law abiding and humanitarian person
Motivation of prison officers and building up them spirit within the Department.
Production of at least 50% of the daily needs of prison inmates in prisons and the improvement of industrial and agricultural activities for the said purpose.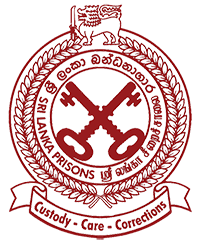 Pride of nation is illustrated by the lion.
The prosperity of the country is illustrated by Two ears of Paddy
Identity of the department is illustrated by using tri-languages (Sinhala,English and Tamil)
Care,Security,& Corrections the main theme (motto) and it is bonded to be symbolized by a statement.
The security of the prisoner is illustrated by the two keys.
Corporate Song

අප රැකවරණය ලබනා හැම දෙන මිනිසුන්
ජිවිතයේ යම් දවසක වැරදුණු මිනිසුන්
අපය ඔවුන් හට යහමග පෙන්වන මිනිසුන්
අනාගතේ හොඳ නොහොඳ කියා දෙන මිනිසුන්
කොටු පවුරින් වටවී සිටිනා
මනු කැල වෙත පා මෙත් කරුණා
දී රැකවරණ ද පිළිසරණා
සුව සෙත සලසමු එක් සිතිනා
අප රැකවරණය ලබනා ………
සිපිරි ගෙදර පියවරුන් අපි
සිපිරි ගෙදර මවුවරුන් අපි
සිපිරි ගෙදර නෑසියන් අපි
සිපිරි ගෙදර හිතවතුන් අපි
අප රැකවරණය ලබනා ………………
Lyrics: Prof. Sunil Ariyaratne
Music: Music Director Rohana Weerasinghe